About Boerboel
Breed History
Boerboel, sometimes also called Boer-Mastiff (Dr. Císařovský), shares its origins with other Moloss Breeds, particularly with English Mastiff, Bullmastiff and Mastins. This is the breed of Boers people. Boers were Dutch immigrants who started to colonize South Africa in 17th century.
"Jan van Riebeck is mentioned as a settler who circumnavigated the Cape of Good Hope during the first wave of colonization in 1652. Van Riebeck set up Dutch East India Company in the Table Bay area. Dutchmen brought dogs known in Netherlands as Brabantse Bullenbijter. The Dutch Settlers brought these dogs for reasons of their own guarding." (CÍSAŘOVSKÝ, M.: Pes, nekonečný příběh od pravěku so třetího tisíciletí; CANIS 2008, ISBN 978-80-900820-1-4)
From the point of view in this Breed History is important the eastward and north-eastward migration away from British control in the Cape Colony during 1830s and 1840s. This migration started in 1838 and it is known as the Groot Trek (Afrikaans: Die Groot Trek); Great Trek; in the area behind the River Vaal. "The Great Trek itself led to the founding of numerous Boer republics, the Natalia Republic, the Orange Free State Republic and the Transvaal being the most notable." (source)
"This march meant a significant selection because only the strongest dogs survived. Important is also a fact that since that moment the dog survivors have lived in isolated farms which led to definition of the breed." (CÍSAŘOVSKÝ, M.: Pes, nekonečný příběh od pravěku do třetího tisíciletí; CANIS 2008, ISBN 978-80-900820-1-4)
Boer people led a constant fight, at the beginning during colonizing time there were fights with native people, and then in 1795 Boers led never-ending fights against the British Crown. The British Crown got the Boers´ area in 1814 which meant increasing of fights and problems. All the time Boerboel was alongside Boers. However, Boerboels are not soldierlike dogs but they are the true guards that always protected owners of theirs as well owner´s family and property. Boerboels protected gentlemen against all enemies (humanlike or animals).
For these character features Boerboel is a favourite breed in parts of South Africa as far up as Nambia.
"Boerboel is a self-confident dog with well-balanced and calm character. Boerboel developes strong bonds with its owner and his/her family and we can say that Boerboel si able to jump in fire for its owner. This dog is very brave, and self-disciplined, obedient and flexible it also may be very initiative. Boerboel has strongly developed territorial sense. Intruders have no chance to step in Boerboel´s territory." (VERHOEF-VERHALLEN, E.: Velká encyklopedie psů, REBO 2002, ISBN 80-7234-072-7).
Predominatingly these character features, shaped for many decades, made Boerboels perfect dogs for guarding families and family farms and farmers. Boerboles are guardians with sensitive nature and with strongly developed relation to their owners.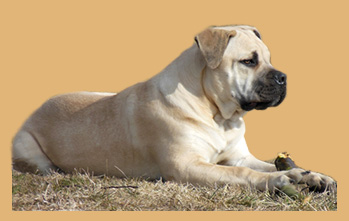 In all aspects, Boerboels are impressive dogs. Their strong physique of athlets and experessive, nobly shaped head make this breed so characteristic. On the other hand, Boerboel needs uncompromising leading of its owner. This is not a dog for men who is not able to (or willing) give proper training and keep supremacy. Boerboels are modest and adaptive, history of breed is a proof of it. Boerboel Breed History is fascinating. According to some authors: "Boerboels appereance is very similar to Assyrian dogs during the era 700BC." (ŘÍHA, M.: Plemena psů, RUBICO 2009, ISBN 978-80-7346-105-8). It means that history of this beed started earlier than in the mid of 17th century. For this reason we call our kennel ASSYRIAN GUARD…

Breed Standard
Boerboel
County of origin: South Africa
Non FCI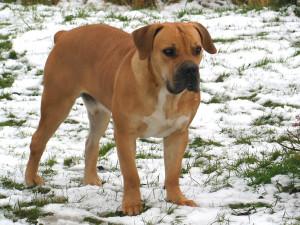 General Appereance: The Boerboel must be large, solid, strong and muscular furthermore must be a well-balanced dog in all aspects. Type, conformation, functional efficiency and mentality are equally important in evaluation of the Boerboel as a whole. Boerboels are large dogs, they are strong, confident and muscular in apperance with powerful, free-moving movement. Should be impressive. There must be difference in appreance of dogs (males) and bitches.
Height: Male: 60 cm at least, 66 cm preferred. Bitch: range of 55 cm – 69 cm, 61 preferred.
Colour and coat: The coat is short, dense, smooth and shiny. The skin is thick and loose but fits smoothly. Skin is well pigmented. The recognized colours/patterns are with or without a mask; however, tha black mask is desirable. All shades of brown, red or fawn with limited white patches on the legs and the fore chest is permissible.
Head: The head is impressive and a distincitve feature of the Boerboel. The head should be blocky, broad, deep, square and muscular, with filled cheeks and in proportion to the body. The zygomatic arch (cheek body) is well muscled, but not too prominent. The stop is visible, gradually sloping, it should not be steep.
Muzzle: The muzzle is broad, deep and narrows slightly towards the nose, sraight and almost on a parallel plane with the skull. The muzzle measures slightly more than a third of total lenght of the head. The nosrtils are completely black, large and widely spaced, with the septum (vertical line) of the nose perpendicular to the lower jaw.
Teeth: The teeth are white, strong, correctly spaced with complete dentition preferred. Ideally the dog should have a scissors bite.
Eyes: The eyes are medium sized, neither protruding or receding, forward facing and widely spaced, with an intelligent expression. The eyelids must be tight fitting with complete pigmentation, showing no structural weakness. The colour of the eyes is preferably dark brown but all shades of brown (preferably darker than the coat) are acceptable.
Ears: The ears are medium sized, V shaped, hanging forward, medium leather, tapering to a rounded point that reaches almost down to a line extendingfrom the mouth. The ears are set wide and are carried close to the head.
Neck: The neck is powerful, of medium lenght, and forms a muscular arch. It flows smoothly into the sloping shoulders, gradually incerasing in width from the head to the shoulders.
Top line, Body: The top line is firm and level, extending in a straight line from behind the withers to the croup.The back remains horizontal to the ground while the dog is moving or standing. The body is blocky, muscular and solid, with good depth and width. The back is broad and straight, with pronounced muscles. The ribcage is well sprung and well filled behind the shoulder blade. Tail: The tail is thick and set fairly. It should be well covered with hair and without kink. Tails are traditionally docked at the 3rd or 4th cadual vertebrae. Natural tails are acceptable. The natural tail should reach to the hocks when the dog is standing and be carried with slight curve upwards when excited or moving. Tail set is more important than the length.
Forequarters: the forelegs are strong boned, with well-defined muscles. Viewed form the side forearm should be vertical from elbow to the pastern. When viewed from the front they should be parallel to each other, not bowed or with toes turning inward. The chest is broad , deep and wide with well sprung ribs and strong developed pectoral muscles. Elbows should be held close to the body.
Hindquarters: The hindquarter is strudy and muscular. The hind legs are strong boned. The stiffle should be strong, and moderately angulated and in balance with the forequarters, to support the powerful propulsion from the hindquarters during movement.
Paws: The front feet point straight forward, are large, round, strongly boned and compact. The toes are well arched, with short, preferably black toenails and protected by hair in between.
Source: American Kennel Club